In the UK, former Specsavers customer insights leader Eddie O'Brien has left to set up a support network called Destination 5.0> which will provide interim insight solutions to clients.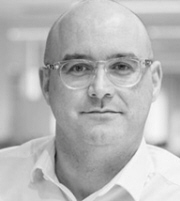 O'Brien (pictured) spent the past nearly three years at Specsavers, where he built and led the firm's first dedicated customer insight function and was responsible for UK regional/local marketing. Prior to this, he worked for Barclays as VP, Insight & Research Team Lead; and Western Union as Global Senior Manager, Consumer Insights & Research. Earlier, he was Global Research Account Director at KPMG Nunwood, and he held senior roles at Kantar and Ipsos, having begun his MR career at Bauer Media.
His new business Destination 5.0> provides access to a network of specialists in qual and quant, user experience and usability, behavioural economics, semiotics, advanced analytics and econometrics – working together or independently as required. These network partners include John Gurd, MD of full-service agency Market Measures, and Chris Rourke, CEO of User Vision.
Commenting on the launch of Destination 5.0>, O'Brien said: 'Now is the golden opportunity the insight industry has been waiting for to prove its worth. Despite cutbacks across many areas, business will be looking to innovate. Operating models and propositions will need re-engineering. Smaller corporates that didn't have a data and digital transformation strategy in place will be scrambling to become fitter for the future'.
Additionally, O'Brien has joined Market Measures as Non-Executive Director, leading the firm's Business Transformation Team and providing input on business strategy.
Web sites: www.destination5point0.co.uk and www.marketmeasures.co.uk .
---
This article originally appeared in MrWeb.