In Canada, consumer insight platform Potloc has closed a $13m Series A round of funding, which it will use to develop AI capabilities, recruit new staff and enter new markets – including the US and UK.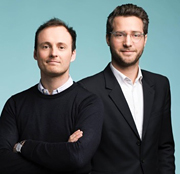 Founded in 2014, Potloc conducts geo-targeted surveys, through social media networks, which it claims offers an alternative to traditional research methods. Potloc COO Louis Delaoustre (pictured left) says the firm's key differentiator is allowing clients to access insights, data and purchasing habits which other survey methods – including web panels and phone surveys – have failed to provide.
Since launch in 2017 the company has raised a total of $17m. The new financing was led by Brightspark Ventures and Investissement Quebec, with participation from Ecofuel Fund, Cap Horn, and Desjardins Capital. CEO Rodolphe Barrere (pictured right) comments: 'Potloc's technology provides enterprises with more accurate, hyper-targeted, and qualitative consumer insights. We are thrilled to be working with investors who share our vision for developing a new standard in consumer research. Together, we plan to triple our growth with an aggressive strategy'.
The company, which has nearly 60 employees based at its offices in Canada and France, is online at www.potloc.com .