This is the first article in a preview series of H2C's Global CRM Study, a collaborative report that leverages interviews and a global survey to explore the current state of CRM in the hospitality industry. 
The importance of a single source of truth as the centerpiece of a profitable customer relationship management strategy is one of the key takeaways from H2C's Global CRM Study. The vendor-agnostic study combined findings from an online survey of 62 executives of both global and regional hotel chains and interviews with 25 hotel executives and 11 technology providers. Here are the first set of takeaways from H2C's far-reaching report on the state of CRM worldwide.
By Nicki Graham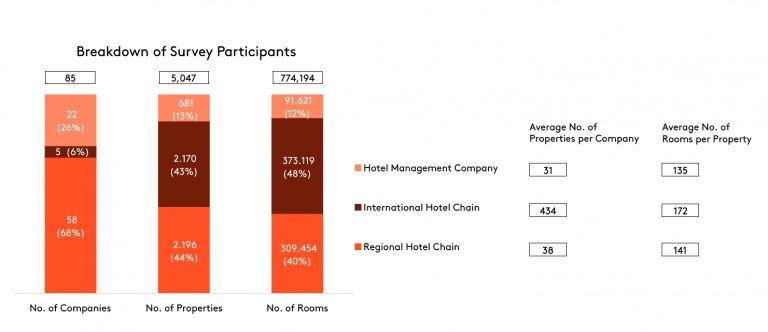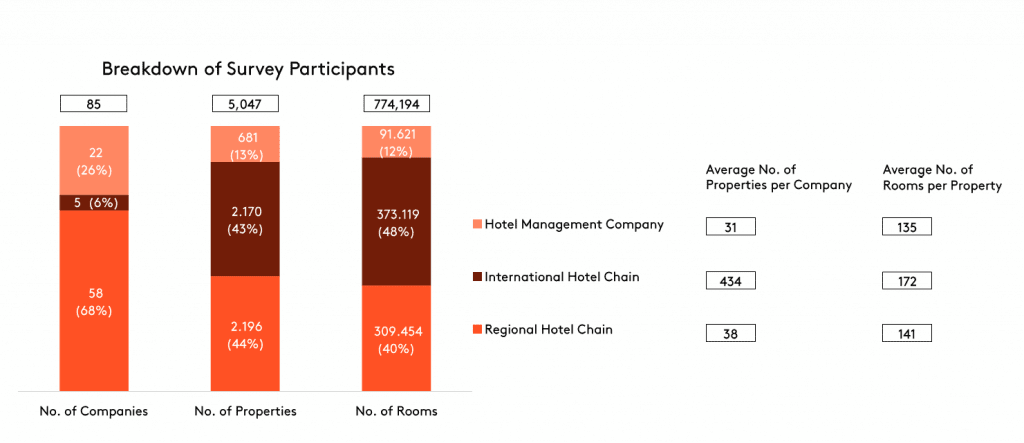 The role of the CRM
Respondents were in agreement: The primary role of the CRM is to enhance the guest experience — and thus increase profitability. To fulfil this role, it requires a single source of truth, said one respondent:
"CRM is the single source of data truth, the heart of everything."
This single source of truth provides the foundation to build positive customer experiences that ultimately enhance profit margins. To fulfil this role, the system must provide functionality that delivers specific benefits:
Gain more guest insights: 76% say CRM helps them analyze guests and their needs. A deeper, more detailed understanding of guests that leads to stronger relationships and more loyalty.
Create efficiencies and reduce manual work: 40% say CRM is to communicate with guests. A more streamlined communication system for their hotels centralizes guest medications, eliminates overlapping efforts, and reduces manual work.
Improve guest profiles: 36% see the CRM has a centralized data collection hub that allows them to collect data on guests and their preferences. Collecting this data in one place leads to a single source of truth for hotels.
Implement targeted marketing: 28% say CRM data and analysis can be used to improve targeting and craft more relevant offers for guests.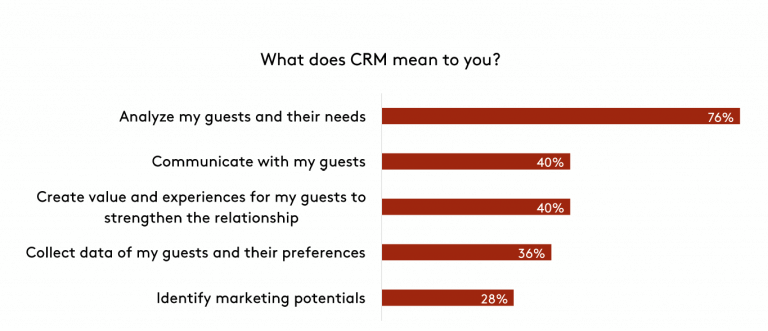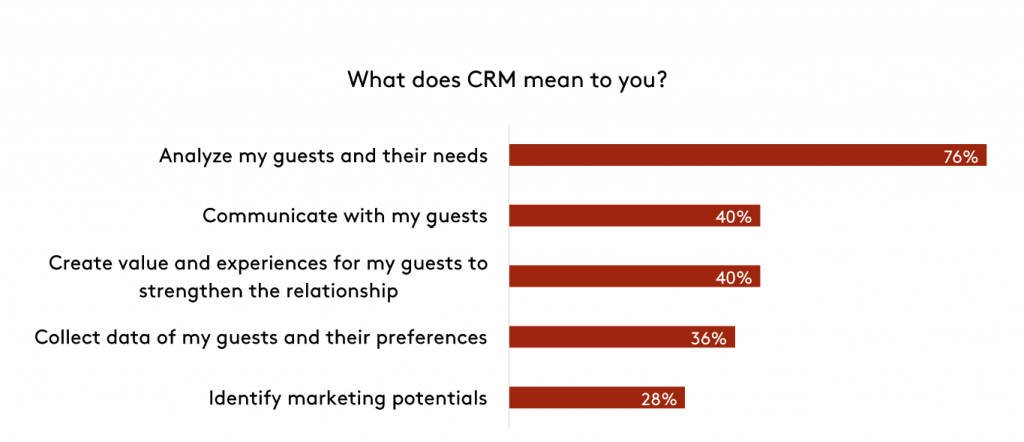 Main challenges with CRM
To fully achieve the promise of CRM (and to unlock the most value), hotels face some key challenges. The two top bottlenecks of most participating hotel chains were the lack of staff knowledge and skills for effectively managing guest data.
Unstructured or "dirty" data was the top issue, with 42% of participating hoteliers saying that their data is unstructured and thereby useless for guest communication. A single source of truth requires clean data. That means that data has been normalized so that it can be stored in a standardized fashion and thus analyzed accurately and efficiently.
Inadequate staff knowledge came in a close second, with 39% saying their staff lacks the skills required to properly leverage CRM technology. While this challenge is one that hoteliers have direct control over, there's clearly a skills gap when it comes to training talent on effective CRM techniques. It all comes down to company culture, said one:
"Company culture is very important: CRM is new to staff and not everyone sees the importance. Changing the employee/s mind is key. CRM is the hotel's heart, and everything is connected to it."
There's also turnover to consider. In today's economy, staff come and go at a steady clip. With new faces to be trained each week, it's no surprise that many hotels struggle to keep consistent CRM best practices.
In the H2C study, 20% of participants reported insufficient execution of essential CRM tasks as a core challenge. This could be due to missing resources, such as the right module or integration to capture data in the CRM, or due to a lack of personnel to update the CRM.
Even those who felt sufficiently staffed struggled with consistency: 21% either didn't have CRM guidelines in place at all or had guidelines that were not consistently followed by staff.
Finally, implementation and integration was a concern for some: 25% pointed to software limitations, or unavailable software modules, as key contributors to less-than-ideal CRM execution. For many, system infrastructure continues to be fractured and siloed, leaving a legacy of unstructured data that limits the power of CRM.
Implementing CRM effectively in such an environment is quite challenging; when disparate systems do not communicate altogether, it dramatically reduces the effectiveness of CRM technology for hotels — and deflates morale, lamented one respondent:
"We have a vision of how our CRM system should function, but the long implementation process is demotivating."

Personalization lags behind
In the age of Amazon and Netflix, personalization has become table stakes. Even though consumers aren't necessarily clamoring for it, personalization is an expected part of the consumer/brand relationship: "based on my preferences and past behavior, you give me more of what I want without me having to ask." It's not about being intrusive, it's about being helpful.
For hotels, the promise of personalization has mostly been confined to greeting guests by name (29%), as well as email marketing campaigns, which 13% of hoteliers reported using personalized email marketing campaigns. That's three times the rate of those that personalized online and offline marketing campaigns!
There was a clear delineation when it came to targeted versus personalized. Targeted communications rely on segmentation to deliver segment-specific messages, while personalization delivers true one-to-one communications. A near-majority of participants used targeted email marketing campaigns (46%), online/off-line marketing campaigns (45%), and groups/corporate business marketing campaigns (32%).
Overall, there's clearly a lot of ways to go before personalization becomes second nature in hospitality.


The bottom line
Proper customer relationship management is labor-intensive. It requires both powerful technology that structures data into a single source of truth and a capable vendor to drive implementation.
Success with CRM also means an ongoing organizational commitment to train staff to leverage structured data to drive results for your hotel. It's not just one function or one task; you need all teams to appreciate the importance of CRM — and know the role each team plays in fully realizing the potential of CRM. As one hotelier emphasized, it's a team sport that's both challenging and rewarding:
"CRM is one of the biggest challenges but also the most important step towards the future."
_______________________________________________
Nicki Graham is the Director of Marketing, EMEA & APAC at Cendyn. She currently leads on all marketing and communication efforts for Cendyn within these growing regions, heads up our marketing strategy for all our global partners, leads on all product marketing efforts and is our brand ambassador. When she's not out there promoting Cendyn, you'll find her either with her dog, Yukon, or out running.
This article first appeared in Hotel-Online. Photo by João Marcelo Martins on Unsplash.