In the US, customer experience (CX) and data platform Arena has raised $2.3m in a seed round of funding, for use in expanding its sales and marketing team and growing its footprint in additional global markets.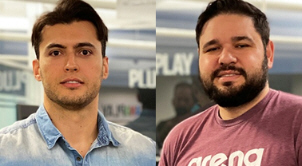 Founded in 2016 by Paulo Martins (CEO, pictured left) and Rodrigo Reis (CTO, right), San Francisco-based Arena offers a cloud-based platform to understand customer behaviour and preferences, based on context, across the customer journey. The firm processes first-party data drawn from web site visits through an artificial intelligence engine to help clients deliver customized experiences to their mobile apps and web sites, at scale.
New funding was led by Redpoint eventures and brings the total raised to date to $3.3m. Reis comments: 'When we started building Arena, we thought: how can we build a Facebook and Google-like infrastructure of real-time aggregated data and digital experiences to be deployed in minutes. We want to make it drop-dead simple by delivering a code-free platform for product, developers, and marketing teams to build their own experiences within their own digital properties. With our AI-powered experience personalization platform, our customers build audiences and campaigns without relying on social media and cookies that are falling out of favor'.
Web site: www.arena.im .