How often are you measuring customer attrition?
This metric is far more important than how many visits you had to your website, how many social media likes you achieved, even more important than how many new customers you acquired. Yes, really!
Below is an example of Customology's waterfall analysis, if you're a regular reader this diagram won't be foreign to you. A quick overview for our new readers. This analysis measures the rate of customer acquisition and loss, comparing the changes in transactional behaviours of your unique customers across buying cycles. The insights gained from this analysis reveals the stickiness of your customers, where your growth is being driven from – new or existing customers, and the potential growth opportunity if customers were retained.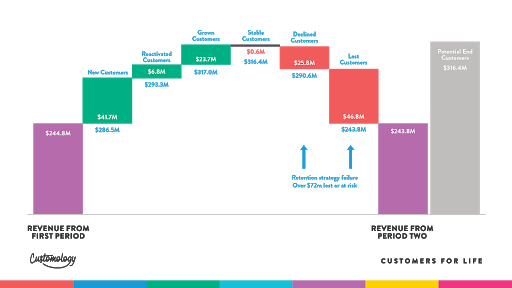 As you can see, marketing did its job in acquiring (new customers), some old customers also repurchased (reactivated customers), and existing customers spent more with the brand (grown customers). Which is great, fantastic, but then we start to look at the customers who spent less (declined customers) and customers who stopped purchasing completely (lost customers), not so great! When you learn of the potential revenue, it certainly makes you pay attention to customer attrition.
So, what happens to these lost customers? Where did they go? Why did they leave? Our research report The Unspoken Customer can help to answer some of these questions. We wanted to understand how customers want to be recognised, rewarded and communicated with, from the brands they shop with today. Let's take a look at some of the key findings that could impact customer attrition:
51% of customers received no communication from the brand post purchase, despite sharing their details
Don't just take your customers' details to build your database. If you have no intention of using them, then don't ask for them. Customers are very aware and conscious of who they share their information with, and will only hand it over to brands that they trust. So if they hear nothing from you, at first, they will likely feel annoyed, but then they'll feel nothing as they will have moved onto another brand, forgetting all about yours.
Also, consider the missed opportunity to get to know and understand your customer, to build a long lasting relationship, which will generate long-term profits and potentially, many referred customers.
63% of customers believe they should be rewarded for referrals
And why not? Sales reps earn commission for new sales, why shouldn't a customer be rewarded for a referral? This too is a huge missed opportunity. There are many referral programs in the market today, but how many actually offer value to the customer, that would encourage them to refer? If you have a referral program, it's time for a review, determine how successful it is (which is very easy to measure), put yourself in the customer's shoes to learn if it is actually delivering value. Speak to your customers, find out what incentives they would appreciate. If you don't have one, then perhaps now is the time. After all, word of mouth is the best form of marketing a brand could wish for, so this should be high on your list of priorities.
77% believe new customers receive better incentives than loyal customers
This came as no surprise, most ads you see there's always some small print 'for new customers only'. Which is so frustrating! You've probably experienced it as a customer yourself – many times, and it's annoyed you, right? So don't expect your customer to feel any different. Always look after your existing customers, don't give them a reason to go to a competitor.
55% don't believe they are rewarded for their loyalty
The stat above probably plays a big part in this. Our research also revealed that 82% of customers could be tempted by a competitor. If they don't feel rewarded for their loyalty, then you can understand why this number is so high. This brings risks and opportunity. It's a wake-up call for brands who have become complacent in their retention efforts. On the flip side, it's also a wake-up call for brands, now aware that they have the opportunity to lure their competitors' customers away – with the right strategy and approach in place anyway.
This article originally appeared in Customology.